Intensive Therapy - Getting Started
Getting started with Intensive Therapy is like taking the first step in a wonderful journey.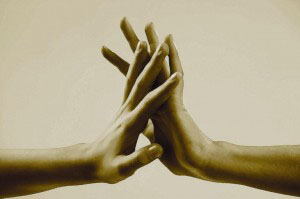 Only qualified couples who are committed to making positive changes will be scheduled for these sessions.  CloserCouples is highly committed to investigating this innovative modality and recognizes that it represents a level of intensity that is not suitable for every couple.
Who Qualifies?
Couples must agree to the possibility of physiological monitoring (pulse oximeters, EmWaves and eventually Love Lab software). Suzanne has been a proponent for a long time of the use of non-invasive physiological sensors that can detect diffuse physiological arousal (DPA) during a conflict discussion, (a predictor of divorce). In addition, Suzanne can use video of your conversation to demonstrate back to you how your non-verbal cues may be creating difficulties between you. DPA predicts breakup and divorce. During conflict, one or both people in the couple can experience an elevation in heart rate triggering a release of adrenaline into the blood stream, creating a sense of panic, bringing about the infamous state of "fight, flight or freeze." It is during these times that "The Four Horsemen of the Apocolypse in Marriage" (a phrase coined by Dr. Gottman) emerge most often: criticism, contempt, defensiveness and stonewalling. When we experience DPA, or flooding, we may not even be conscious of it. Technology can help us to be more physiologically aware of, and compassionate toward, ourselves and our partner. And this leads to much, much more evolved dialogue in session.


Partners must be willing to complete a Couples Intensive Survey, which measures commitment and readiness for this model, which is definitely not for everyone. Besides helping us guage your readiness for this process it will also help us to determine together the best therapy approach for your relationship. Your responses will help us see whether there are contraindications to couples therapy which may actually make things worse for you in your relationship. The form is also designed to protect you from getting into a protracted therapy session with a partner who has already made a firm decision to leave the relationship. The survey is short and only takes a few minutes. After we receive your responses, we will reach out to you and your partner with some ideas for getting started.  


Before therapy, each partner must be willing to complete a Relationship Assessment from The Gottman Institute to be sure there are no contraindications for couples treatment. After therapy, a follow up assessment (10-20 minutes) will also be sent to you.
If interested in being considered for selection click here, and you will be prompted to complete these forms.
How Much Do Intensive Therapy Sessions Cost?
The cost for intensives is no higher than traditional therapy. The hourly cost is $200, with an option to spread the payments out over a traditional two-three month period, while the treatment itself is concentrated and focused into one day. In order to confirm your session with CloserCouples, ½ payment must be made in advance. The remaining balance can be paid at the time of your session or later if we have a signed payment plan agreement. Intensives cancelled with at least one week's notice will receive a full refund, minus a $150 administrative fee. No refunds can be given when cancellations occur with less than one week's notice.
How Do We Get Started?
If this model is feasible for you, please contact me to arrange for the survey. If you and your partner meet criteria, Suzanne will offer scheduling options for you. They are 6.5 to 8 clinical hours, with specific times TBD (typically 9am-6pm, but this timing is somewhat flexible).
In addition to completing the assessments, I encourage you also to watch Making Relationships Work, a film on Dr. John Gottman's relationship research. You may rent the streaming version here: https://vimeo.com/ondemand/mrw. Essentially the same material is available now on Youtube in four videos, too. Those links are attached below.
Links to Gottman Research presentation:
Part 1
https://www.youtube.com/watch?v=LLXX8wzvT7c
Part 2
https://www.youtube.com/watch?v=-gFldZtVIqQ
Part 3
https://www.youtube.com/watch?v=sJ7RHLBdqGM
Part 4
https://www.youtube.com/watch?v=9aSpl_ZjmcY