LGBTQ Relationship Counseling
Workshops tailored to gay and lesbian couples can have a strong impact on relationships.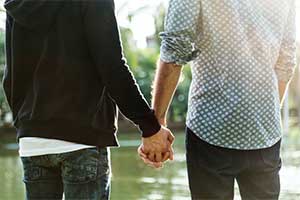 "Gay and lesbian couples, like straight couples, deal with every day ups and downs of close relationships," Dr. Gottman observes. "We know that these ups and downs may occur in a social context of isolation from family, workplace prejudice, and other social barriers that are unique to gay and lesbian couples. The research uncovered differences, however, that suggest that workshops tailored to gay and lesbian couples can have a strong impact on relationships."
Plentiful relationship resources for heterosexual couples are available, but comparatively few for lesbians and gay men. So it's no wonder that same sex couples often wonder which relationship approaches would be helpful to them. And, even if a particular approach appeals to a same sex couple, how safe will it feel to work on their issues with a particular therapist? Drs. John and Julie Gottman have been studying all kinds of committed relationships for decades—straight, gay, and from a vast array of nationalities and socioeconomic backgrounds. What emerges from this research are interventions based on what we now know about these couples.
Types Of LGBTQ Counseling
There are compelling approaches to LGBTQ counseling, but the approaches I use are based on decades of solid scientific research. My methods include
The Gottman Method
,
Emotionally Focused Therapy
and sometimes
EMDR
can be part of our work together as well. Take a look at these very short video clips or take one of these quizzes to see whether these approaches are right for the two of you:
How To Select An LGBTQ Counselor
Regardless of which approach you choose, here are some questions any skillful therapist will be happy to answer:
Do you have specific LGBTQ couples counseling training?
What is your approach?
How long have you been working with LGBTQ couples?
What percentage of your practice is spent with LGBTQ couples?
Your relationship is too important to pick anyone who lacks reassuring answers. You need to know that no matter how you and your partner show up in my office, there is hope for you even if
you believe you may be fundamentally "mismatched"
you have grown so far apart, and for such a long time
there has been an affair, or several of them
one or both of you have trouble regulating your emotion
another therapist has advised separation or divorce
The nature of your problems is not nearly as important as your motivation to change. I have experience-based belief that almost all couples can heal their relationship history and restore their partnership to health. Whether you choose a weekly (link to Welcome/What to Expect) or marathon (link to marathon FAQ) therapy format, I will use my 40,000 hours of clinical expertise to provide a roadmap for your best possible connection.
What Kind Of Success Can I Count On?
I have a very high success rate (link to reviews) helping couples to:
address core differences
communicate effectively
reduce one another's distress
heal after affairs/betrayals
pull out of attack/defend patterns
improve Love Maps, patterns of Turning Toward and Fondness and Admiration (the Friendship System)
rekindle romance
stave off the predictors of breakup or divorce (contempt, criticism, defensiveness, and stonewalling)
manage their physiological distress (flooding) during arguments
drop into deeper attunement
For The Record
I've studied extensively at The Gottman Institute and am  one of only a few Gottman-certified clinician in Utah. My psychotherapeutic experience with gay men and lesbians is also extensive. I worked as a medical social worker, counselor, and group facilitator at the Samuels Clinic at Roosevelt Hospital (an outpatient medical facility for primarily gay male patients with HIV/AIDS) in New York, NY. Additionally, I currently counsel many same sex client relationships in my private practice.
Raise your words, not your voice.--Rumi