Gottman Therapy
Diagnostic and intervention techniques and specific exercises to will empower couples.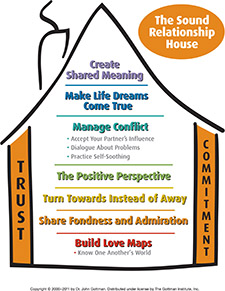 What Is The Gottman Method?
Suzanne Pratt is a Certified Gottman Therapist who practices in the areas of Gottman Couples Therapy, Gottman Marital Therapy, and the Gottman Method.
The Gottman Institute has been recognized throughout the world for its dedication to combining wisdom from research and practice to support and strengthen marriages, families, and relationships. It brings the knowledge of research to therapists--and the insight of therapists to researchers. This link between research and practice reflects the collaboration of Drs. John and Julie Gottman, whose combined research and clinical experience is excellent, extensive, and incomparable. Sound assessment (link to Assessment pdf) is a unique feature of the Gottman Method.
What is Different about Gottman Method Couples Therapy?
It is an affective couple's therapy. First and foremost, it focuses on emotion, on the emotions the couple brings into a session, on dysfunctional negative interaction patterns (escalation or emotional disengagement) and on replacing the Four Horsemen (divorce predictors: criticism, contempt, defensiveness and stonewalling) with their antidotes in order to make the conflict discussions more functional, constructive, and regulated. It also focuses on emotional repair, and on building safety, trust, bonding, love, intimacy, friendship, and positive affect. This work includes focus on all the seven emotional systems described by Jaak Panksepp.

It is a behavioral couples therapy, focused on changing interaction patterns.

It is an existentially-based couple's therapy, both in its approach to gridlocked conflict and building the shared meaning system. Dreams within conflict are explored.

It is a cognitive couple's therapy, focusing on how couples think about their relationship, and how they feel about feelings (meta-emotional philosophies are explored and addressed).

It is a narrative therapy, focusing on the stories the partners tell themselves about their history, their purpose, and their struggles.

It is a systemic couple's therapy, based upon the sequential, time-series, and mathematical modeling of actual interaction patterns that describe the relationship as a system.

It is a psycho-dynamic couple's therapy, based upon specific aspects of analysis of the role the primary family member and other salient past relationships play in the relationship here and now, especially in our analysis of the anatomy of a conflict. As Faulkner said, The past is not dead, it is not even past.

In this therapy, as you can see, we focus on emotion, skill building for managing conflict, developing new skills for enhancing friendship, and helping the couple to create a shared system of meaning together.

This therapy is not a rigid school of therapy that seeks adherents. It does not exclude orientations. Gottman therapists employ many approaches to integrate basic research into clinical concepts. The Gottman Method seeks to be practical and systematic, with diagnostic and intervention techniques and specific exercises that will empower couples to apply these methods immediately.
For The Record
I have trained extensively at The Gottman Institute (www.Gottman.com) and at ICEEFT (www.iceeft.com), both world-renowned couples therapy research institutes. Both encourage longer sessions with couples, based on studies. To locate other Certified Gottman therapists that provide marathon therapy in other parts of the country, please click Find a Therapist or call The Gottman Institute at 888-523-9042 x1. All requests for therapy are kept confidential.
Learn more about the effectiveness of Gottman Method Therapy