Pre Marital Counseling
Premarital counseling helps teach communication skills and eradicate predictors of divorce.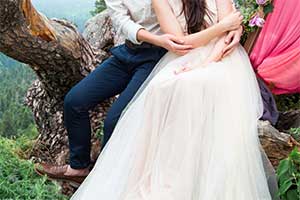 Premarital counseling is a step which many couples are taking before they tie the knot. Roughly half of American couples who wed will stay together. As couples postpone marriage in order to attend college, to begin careers, and as medical technology allows for family formation much later than ever before, we are seeing the median age for brides and grooms increase. And this is the good news: as couples age beyond 24, their risk of divorce decreases. What leads to such high rates of divorce? Many believe that divorce is a result of irreconcilable differences, incompatibilities, and what couples are fighting about. But according to research by Dr. John Gottman, it isn't what couples fight about, but how that predicts whether a couple will stay together. When criticism, contempt, defensiveness, and stonewalling are introduced into a couple's conversation, bonds corrode and marriages fail.
Why Engage in Pre-Marriage Counseling?
Don't engage in premarital counseling to find out whether you're compatible—you will DEFINITELY have major differences no matter who you marry. Engage in premarital couples counseling to eradicate predictors of divorce. Engage in counseling before marriage to learn communication skills that serve your true goal, which is not to win that fight but to keep the relationship strong forever.
By attending premarital counseling with a well-trained clinician you will learn about The
Sound Relationship House
(insert link to SRH image) and how to maintain it. This is the best investment you can make in the early stages of your relationship.
Get a Template for Healthy Conflict
Consolidate Strengths and Work Through Challenges
Make Attachment Feel More Secure
Affair-Proof It
Conflict is normal. 69% of the time, couples conflicts cannot be immediately, if ever, resolved. Understanding that conflict is normal and having a template for managing differences in a healthy way is the first step. Learn to recognize behaviors that predict divorce and have tools for eradicating them from your interaction. Managing conflict well is only part of a happy relationship. We must also focus on dedicating ourselves to keeping the friendship system strong, and building trust and commitment. Make your marriage affair-proof by learning why and when affairs can happen. Recognize that your job as a mate isn't to find the perfect person. It is to love the person you have found. Love is an active choice, not merely a feeling, and there are specific ways to keep it alive.
How Does Pre-Marital Counseling Work?
You will receive a DVD and an invitation to complete a Gottman pre-marital assessment. I will complete an Oral History Interview with the two of you. You will have a Feedback Session with me to learn about the strengths and potential pitfalls of your relationship. I will intervene in areas that are challenged, providing a roadmap for keeping your love alive, managing conflict and creating shared meaning. Count on one session for each phase below, except for Phase 4, which often takes 2-6 sessions.
Get a Template for Healthy Conflict
Consolidate Strengths and Work Through Challenges
Make Attachment Feel More Secure
Affair-Proof It
How To Select A Pre-Marital Counseling Professional
Regardless of which approach you choose, ask your therapist:
Do you have couples counseling training?
What is your approach?
How long have you been working with couples?
What percentage of your practice is spent with couples?
Your relationship is too important to pick anyone who lacks reassuring answers. Whether you choose to work with me on a weekly basis or to use the Marathon/Intensive Therapyformat, I will provide a blueprint for you, based on my 40,000 hours of clinical experience.
Just a small shift in the trajectory can make all the difference in where you find yourself.