Family Counseling
Families are dynamic by nature...stress is inevitable ...the path forward awaits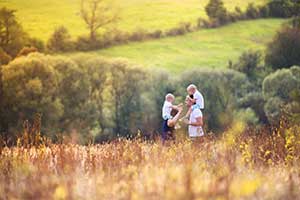 Many factors bring families into counseling together.  Sometimes the joy of having a new or growing family can be off-set by stressors, and you find irritability creeping into your marriage.  Sometimes there are parenting differences around the issue of discipline.  In blended families, arrangements with ex-partners can introduce unwanted complexity and distress. You may have experienced a loss in the family and everyone seems to be coping in different ways. You formed a family to love and to be with one another, but all you see and hear are raised voices or isolation.
Establishing a relationship with a family counselor is an important decision.  For such a key role, you need someone with experience. After over 25 years of working with couples and families I can help with:
Conflict resolution
Creating healthy boundaries
Increasing authenticity and transparency
Managing stressors
What Can Family Counseling Do For You?
Do we really need therapy? We can usually handle our problems on our own.
Every family goes through challenging situations in life, and while you may have successfully navigated through other difficulties you've faced, there's nothing wrong with seeking out extra support when you need it. In fact, therapy is for people who have enough self-awareness to realize they need a helping hand, and that is something to be admired. You are taking responsibility by accepting where you are in life and making a commitment to change the situation by seeking therapy.
Gottman Method Therapy provides research-based long-lasting benefits and support, giving you the tools you need to avoid triggers, re-direct damaging patterns, and overcome whatever challenges you face. In my work with couples and families, we:
Creating a shared vision for your family
Developing the rituals of connection that help a family feel bonded
Finding resolution to the issues or concerns that led you to seek therapy
Learning new ways to stay composed during conflict
Improving communications and listening skills
Improving your self-esteem and boosting self-confidence
Family Therapy and The Growing Family
Even the strongest relationships are strained during the transition to parenthood. Lack of sleep, never-ending housework and new fiscal concerns can lead to profound stress and a decline in marital satisfaction – all of which affect baby's care. Not surprisingly, 69% of new parents experience conflict, disappointment and hurt feelings.
The Gottman Institute's research-based
Bringing Baby Home
book and workshops prepare couples for life with baby and helps them be the best parenting team possible. These tools give parents ways to strengthen their relationship and foster baby's development during this challenging time. They build on what Dr. Gottman and colleagues found is the best predictor of marital adjustment after baby arrives: the quality of friendship in the marriage.
This workshop combines scientific research and public education to improve the quality of life for babies and children by strengthening their families. It teaches new parents how to gain relationship satisfaction and create healthy social, emotional and intellectual development for their children.
Click here
to learn more about Dr. Gottman's parenting research.
Emotion Coaching: The Heart of Parenting
presents a 5-step method that builds emotional intelligence and creates positive, long lasting effects for children. Easy to learn, and used by parents, educators, and care-givers, it supports kids through life's ups and downs in a way that builds confidence and helps them grow socially, emotionally, and intellectually. Available as a manual and DVD set or an online streaming program from The Gottman Institute.
A system is only as sophisticated as its ability to integrate differences
.--Yvonne Agazarian